Hamilton Bisbee Obituary
Published in the Florida Times-Union on January 10, 2013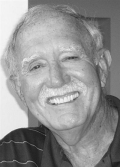 Hamilton J. Bisbee, 76, of Ponte Vedra Beach passed away on January 7, 2013. He was born on February 12, 1936 in Sanford, Florida. Hamilton graduated in 1958 with a business degree from Florida State University, where he attended on a football scholarship and played baseball. He was also a member of Alpha Tau Omega fraternity. Following graduation, Hamilton enjoyed an accomplished and successful executive business, entrepreneurial and consulting career spanning five decades. Starting in sales with the Travelers Insurance Company in Jacksonville in 1960, he eventually moved to the Rourke Eno Paper Company, gaining successive promotions in sales, distribution and management until his appointment to president in 1980. He assumed the same role for Houston, Texas-based Monarch Paper, and in 1986, returned to Florida as CEO of the Unijax Company in Jacksonville. Recognizing his entrepreneurial instincts and turnaround expertise, Hamilton purchased the Coastal Plastics Corporation in Jacksonville in 1989, ultimately selling the company. He then acquired Drummac, Inc. in 1995, eventually serving as a board director until last year. Prior to retiring, he established a successful consulting practice, advising manufacturing companies in a variety of industries. A member of the Sawgrass Country Club, Maggie Valley Club & Resort and Maggie Valley Men s Golf Association, Hamilton was a scratch golfer who won countless club tournaments and had many hole-in-ones over the years. Active in the two communities in which he resided, his board positions included the Persimmon Condominium Homeowner s Association, SouthTrust Bank/ Jacksonville, International Paper Advisory Board, Jacksonville University, and Athletes Against Drugs. As fiercely proud Seminole, he rarely missed a home game in more than 50 years and was a member of the Florida State Varsity Club. Hamilton was an avid skier and a skilled hunter. He recently joined the Florida Writers Association and enjoyed writing short stories. An outgoing man with a sharp wit who loved to tell jokes and never blew the punch line, Hamilton will be dearly missed by his family and friends. He is survived by his children Christopher Bisbee (Jennifer) and Ashley Bisbee Rea; grandchildren Alexander and Leah Bisbee and Charlotte and Anna Rea; sister Beatrice Geib; nieces Louise and Lynn Geib; Carol Hadley, the mother of his children and many extended family members and dear friends. He was predeceased by his parents, Hamilton J. Bisbee, Sr. and Elmina Bisbee.